Well equipped Operations setup
High Capacity plants and a large fleet of transit mixers enable us to maintain fair service standards for our customer, We have dedicated logistics and customer relationship management team
We ahve well equipped and spacious QA/QC laboratories for all the three plants manned by experienced and competent professionals to handle the quality fucntion
Concrete OEM has been established by experienced Readymixed concrete professionals with over four decades of experience in working with some of the most prominent names in the Indian and International Readymixed concrete industry.
We are Readymix Concrete Solutions Provider, specialising in setting up captive capacity to support large scale Industrial, Commercial and Residential Projects.
We commenced our operations from Chennai from late 2017 after commission of our plant at Erikarai on the outer ring road. Today we have three operational plants in Chennai & Bangalore which enables us to serve our customers across the length and breadth of the city.
The Chennai plants are located at,                 
Kundrathur                                                       
Madhavaram
Navalur
The Bangalore plant Located at,
1.Hoskote 
Largely due to our service and quality standards, we have been able to associate with some of the big names in Chennai Construction Industry as a concrete producer of choice in a shot span of time.
Today we have established ourselves one of the top Quality and service oriented readymixed concrete producer in Chennai.
Our Vision, Values and Strength
We are committed to achieving customer satisfaction by producing, supplying consistent quality concrete with impeccable service.
VISION
We aim to be recognised, admired and respected for the best in class HSE Practices, Product Quality, Timely Delivery and great customer service.
We aim to be the supplier of choice for our Customers.
We aim to provide the highest possible customer satisfaction.
VALUES
Maintain Highest level of Integrity in all our Actions
Be ethical in all our Business Transactions
Safety and Wellbeing of our people is the first priority for us
Strengths
Senior Management with a holistic view of the Readymixed Concrete Industry
Dynamic and energetic team to understand and deliver to customer requirements
Strong and capable vendor bank to ensure supplies of consistent and Quality Raw material.
Concrete OEM Private Limited,
No-186, Erikarai Road,
KolacherryVillage,Kundrathur,Chennai,
Tamilnadu – 600069
Concrete OEM Private Limited,
SNo 116/1, 116/2b, 116/3a1, 117, 148/a, 148/2 b1,Thalambur Road,Navalur village,
Chengalpattu Dt, Chennai,
Tamilnadu – 600130
Concrete OEM Private Limited,
Survey No 150 Part 1A & 1B
Kosapur Kannapalayam Road,
Theeyambakkam village, Thiruvallur District,Chennai,Tamilnadu – 600052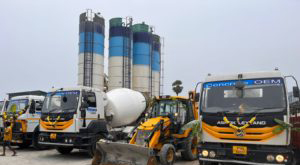 Concrete OEM Private Limited, Sy No.123, 124/1, AMANI DODDAKERE VILLAGE, KASABAHOBLI HOSKOTE TALUK,
Hoskote, Bengaluru Rural, Karnataka, 562114
ISO 9001:2015 Certification
QCI RMC Capability Certification